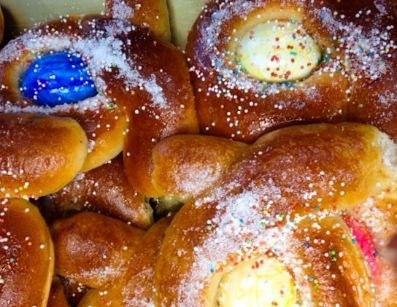 We bring you the definitive recipe for Easter mona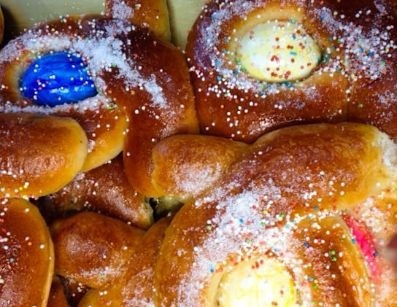 The Easter monkey….
Oh what a great childhood memory! With its anisette, its animal shape, its colorful painted egg, who has not run after a brother, a cousin, a friend ... to crack the egg on his forehead? total, for most of the time you don't even eat it ...
Few know it, but its origin is to be a cake whose tasting symbolizes that
Lent
and its abstinences are over. It is a typical cake from the entire Mediterranean area, and its name comes from the "munna" or "
mouna
", an Arabic term that means "provision of the mouth", a gift that the Muslims made to their lords.
Traditionally, the godfather is the one who gives the monkey to the godson and the custom was to go on an excursion to spend the afternoon playing rope or raising the cachirulo.
Today there are many different variations of the dough of the monkey and its cousin the pancake, and what to say about the eggs, which have become directly chocolate, (losing the grace of cracking someone on the forehead ...). But here we are going to leave you the
traditional recipe
so that it comes out with a real authentic flavor and the children can paint the cooked eggs as it has always been done.
The recipe: ingredients
-3 eggs
-150 cl of oil
-150 gr of sugar
-Yeast
-Boiled and fun painted egg
To make the dough, beat the eggs adding the lime zest, and little by little the oil and sugar. Stir everything well until the sugar is completely dissolved.
With each 100 gr of mixture add a handful of flour and a little yeast dissolved in a little warm water, and mix everything well.
Add more flour little by little and knead until it doesn't stick, it is better to smear your hands with oil. Stir and knead for at least half an hour. Let the dough rest for at least five hours or more in a warm place, until the dough ferments and rises. If this good it has to make a bittersweet smell.
After that time, form balls of pasta more or less like a tennis ball and give them the shape we want. Put the boiled egg in the center and leave them on a wood with a parchment paper underneath. They have to rest again for the necessary time until we see them rise again.
Spread the monas with beaten egg and dust them with sugar. Put them in the oven at 200º for half an hour, until they are cooked and have taken color.
Do you dare to snack Easter cake and empinar the
cachirulo
on the beach?
We are waiting for you, we have a luxurious time!
Read more